Summary
FOMC minutes reveal that the U.S. economy is not on an even keel.
Declining new factory orders and rising savings rate are indications of the cautious outlook on the economy.
Fed sets itself an inflation target of 2% by the end of 2018.
Minutes
of the FOMC meeting held in January were released recently. While acknowledging the positive developments in both labor and housing market, the meeting mostly focused on the negative consequences of a strengthening dollar and plummeting oil prices. The minutes also revealed that the US Fed is in no hurry to raise interest rates this year unless a strong evidence of economic recovery is available.
After going through the minutes, it is hard to ignore the feeling that the Fed stuck to its old script of not giving away too much, but just enough to keep the financial markets stable. Given the way markets are aggressively reacting to bad news, that could have been Fed's objective.
In this article, I would like to focus on some basic but important economic indicators which were not given their due consideration in the meeting.
Inflation Expectations Remain Low
Since inflation forms a crucial component of Fed's monetary policy, it becomes imperative to discuss what the minutes revealed.
The Committee ascertained that inflation target of 2 percent will be hard to achieve before the end of 2018. But read this,
The Committee would be concerned if inflation were running persistently above or below this objective.
What irks me in the above statement is the absence of a specified range within which the deviation from the said target is acceptable. You cannot have inflation at 4% or 0.5% and just say that you are concerned. Specifying approximate inflation levels for the future would have brought some credibility to the statement. Obviously, there is the risk of being wrong but there is also a strong incentive of regaining investors' confidence.
Inflation as of December 2015 stood at 0.7 percent and has been picking up since hitting 0 in September.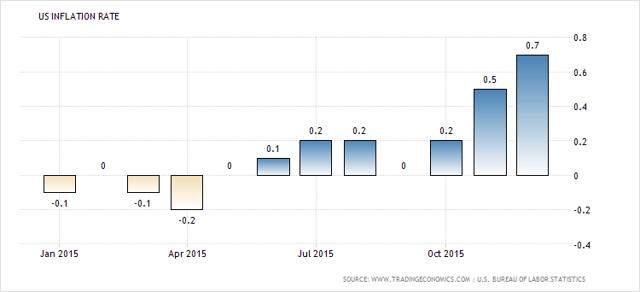 The Committee attributed the lower inflation reading to decreases in both energy prices and prices of non-energy imports.
Cheaper Crude Pulls Down Economic Activity
The deep fall in crude restrained Industrial production in the United States in November and December. Manufacturing sector also bore the brunt of the slowdown as output declined, with a step-down in the number of motor vehicles produced. Other indicators which point towards a slowing economy is the declining mining output and lower factory orders.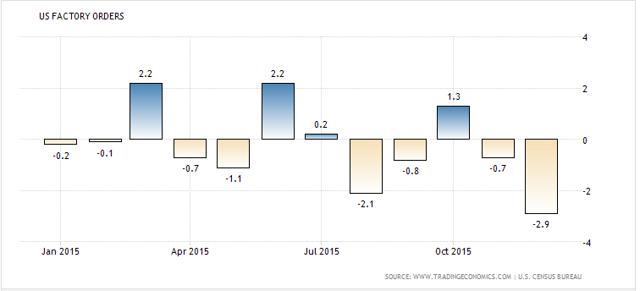 As can be seen, the 2.9% slump in Factory Orders is the steepest decline in the last 12 months. Constituting this was a 5 percent drop in durable goods, a 0.8 percent drop in non-durables, a deep 12.6 percent cut in transport equipment, and a 4.3 percent cut in orders for non-defense capital goods excluding aircraft.
U.S. Personal Savings Rate Trends Higher
Personal Savings Rate, which equates to the ratio of personal income saved to personal net disposable income in a particular time period, is slowly yet steadily marching upwards. The meeting discussed that even as households' real income increases as a result of rising employment and falling energy prices, the average U.S. consumer is focusing more on savings.
Regarding the outlook for consumer spending, a number of participants noted that the recent moderation in spending seemed inconsistent with continued strong gains in households' real income from rising employment and falling energy prices and with the relatively elevated level of consumer sentiment.

Several were concerned that the rise in the saving rate since the middle of 2015 might suggest an elevated degree of caution about the economic out-look or that the recent retreat in equity values, if sustained, might damp spending.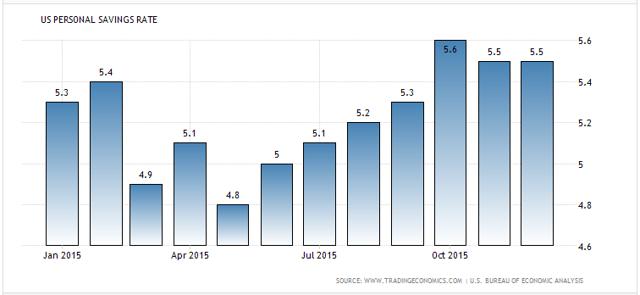 Savers might be saving more in the anticipation of higher interest rates in order to increase their interest income. But if spending was to take a hit, then the said economic recovery will derail once again and the Fed might be forced to lower the interest rates or at least, postpone its rate hike plans for a longer-than-expected time.
I do not see Fed resorting to negative rates in order to push consumer spending. But who knows?
Your Takeaway
Personally, I think the Fed is putting too much faith in the progressing sectors such as labor and housing, which are extending their growth periods whereas several other indicators are pointing to weaknesses.
I believe it is wiser to err on the side of caution rather than believing that all is well with the U.S. economy.
Image: GettyImages